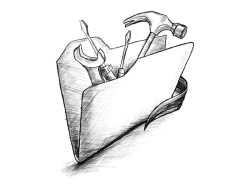 Web application development varies in terms of technical complexity and security concerns. Depending on the time to market and level of complexity, Imagine Web Solution follows and quickly adjusts its processes and models for web application development. Based on the type of application and business needs, we either develop an entirely new web application with the browser-based interface or merely adapt an existing application and use different presentation technology.
We have experienced and qualified web application developers working on numerous applications with large amounts of data and transaction. We are able to supply you with the most desirable, innovative, trustworthy web application solution, and software solution to complement your most complicated business ideas.
Our experienced team, with their vast knowledge in developing the user-centric web application, has made us the favorite choice among internet users & those who seek to utilize the power of web applications in their work & business.
Why web application development from Imagine Web Solution?
We provide proper documentation for each and every phase of your website.
We believe in SEO based projects that help you to enhance your gross business and productivity.
We believe in reducing certain resources to enhance the productivity of your business.
We believe in providing a lasting profitable relationship with our client through a more promptly customer relationship.