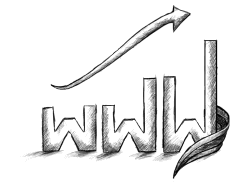 Today's business world is all about search engine optimization and digital marketing - the vital resource for flourishing individual businesses and productivity in less time.
Imagine Web Solution designs and promotes your website to bring more visitors. Through our professional Search Engine Optimization (SEO) techniques, we improve the visibility of your website in search engines through the "natural" (not paid) search results.
Our qualified professional SEO and SEM professional team are proactive to help and track you with the best search engine strategies, optimization, and digital marketing tips. New methods of promotion via the world wide web offer a strong field of dynamic development. We boast comprehensive knowledge and experience, combined with a targeted and "smarter" marketing strategy on the internet which can bring significant benefits to your business. Therefore, Imagine Web Solution offers you the hand-in-hand relation so that you can be aware of the techniques and market your business through the internet and become productive in less time.